Aaron Lind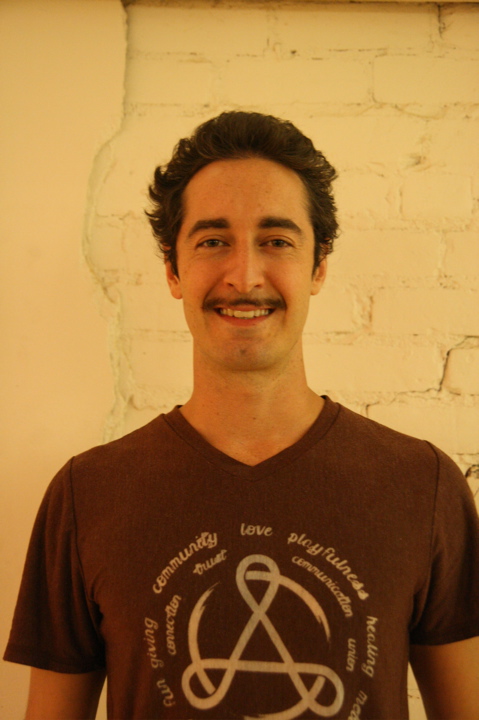 Aaron Lind is a certified Hatha Yoga and AcroYoga instructor based in New Orleans, LA. His greatest joy has been sharing music and movement in ways that bring people together in a celebration of life.
 Aaron's yoga journey began in 1999 when he found an old book on yoga and tried every pose in the book. His background as a childhood gymnast made most of the poses accessible and a fun and wild exploration of his capacity to embody many shapes. AcroYoga has been an invitation and a challenge to continue this joyous adventure of human potential while creating beautiful friendships.
Aaron moved to New Orleans in 2002 to complete music school at the University of New Orleans. He ended up falling so in love with the culture-it's music, history, people, and tendency to make every day possible a celebration and invitation to play. Aaron completed a Master's Degree in Jazz Studies and continues to play jazz and funk gigs as well as yoga classes and workshops around New Orleans and the world.
Aaron offers tremendous loving gratitude to all his teachers along the way including his parents and sister, Jason Nemer and Jenny Sauer-Klein for sharing this beautiful practice of partnership, John Friend for giving Aaron's passion for yoga and philosophy intelligent and progressive direction, Douglas Brooks and Eric Stoneberg in New York for unfolding the Srividya philosophy in rich and entertaining ways, Michele Baker in New Orleans for amazing unconditional love and support, Kelly Haas for being an incredible and inspiring mentor, to his community in New Orleans for helping him to grow, to all of his friends everywhere for being such great mirrors, and to the Universe for providing so many fun and amazing possibilities to experience being alive!