Amy Archinal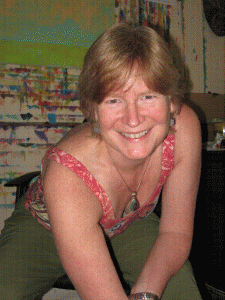 I began my study of Taoist Yoga in 1985 and had my first introduction to Hatha yoga a few years later. I am a certified Phoenix Rising Yoga Therapist and Group Facilitator I also trained at the Shambhava School of Yoga, Shoshoni and am a registered yoga teacher with Yoga Alliance and a visual artist.  My mentors have included Wilson Pitts, Georgia Sears, Karen Hasskarl and Elissa Cobb.
I view yoga as a practice of embodiment–being fully present to physical sensations, emotions, thoughts and spirit in and through the body. In every pose there is the outer physical manifestation and also the rich inner experience; the breath is a powerful force that that connects the two. Inviting in all awareness, we experience life more fully and ourselves more authentically.
My teaching includes elements of Taoist Yoga, traditional Hatha Yoga and Phoenix Rising Yoga. My focus is on mindful movement– helping students  create freedom in the body, the breath and the emotions. Students are invited to explore a deeper self -presence.
I offer Phoenix Rising Yoga Therapy sessions for individuals and couples and I facilitate 8-week Stress to Bliss groups. For more information visit my website:  www.neworleansyogatherapy.com