Jessica Blanchard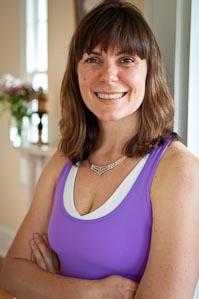 Over time the 'pieces'of my life have gradually come to fit together, like parts of a puzzle that form a larger, more beautiful picture.  Balance Yoga Wellness Center is the result of dedication, grace, and authentic yoga coming together in a union of like minded spirits.  For many years I was lucky enough to teach at Yoga Thailand, a dedicated Ashtanga Yoga Retreat Center, in Koh Samui, Thailand, founded by Paul and Jutima Dallaghan.   It was through Paul that I first met Sri O.P. Tiwari. Tiwariji is one of India's masters of Pranayama, and head of the Kaivalyadham institute. From him I have learnt that yoga is a complete way of living, not simply something that is practiced for a couple of hours each morning. He has also closely directed my practice of pranayama since 2003. In October of 2007 I relocated to New Orleans, and after living and teaching in New Orleans for a few months, I was ready to make a permanent commitment to New Orleans. In May of 2008, I founded Balance Yoga & Wellness to offer yoga, ayurveda and pranayama to the New Orleans community.
I  first met Sri K. Pattabhi Jois in London in 2002, and was immediately struck by his incredible energy, and began to make frequent trips to Mysore to study with him.   I honored to be given his authorization to teach the Ashtanga Yoga method in 2006.  As I studied and practiced yoga more deeply, I became more acutely aware of the link between the diet and the practices of yoga. I have also completed the practitioner's training in Ayurveda at the European Institute of Vedic Studies, and am now a member of NAMA, the national organization which governs and protects Ayurveda as a profession in the USA.
I started with a basic form of hatha yoga, but somehow knew that Ashtanga yoga was the asana approach which would most suite.  I knew immediately that I had found a deep and profound practice.  My yoga practice gave me a way to maintain balance and bring inner peace while working at a job which demanded much of my time and energy.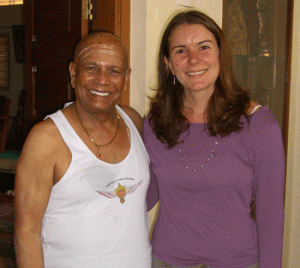 I looked for knowledge and inspiration wherever I could find it, attending many workshops in Dublin and in other European cities.  I first met Guruji, Sri K. Pattabhi Jois, and Sharath Rangaswamy in 2002 on the London portion of their world tour.  Guruji's energy and teaching had an immediate impact on me, and I knew that I wanted to spend more time learning from the source.  Shortly after this I met Paul & Jutima, and decided to attend a Centered Yoga Teacher Training course.  Not only did the training develop my Ashtanga asana approach, it also gave me a firm foundation in pranayma and philosophy. After the training I began teaching yoga part time at the Samastihi studio in Paris enrolled in a four year practitioner's training at the European Institute of Vedic Studies, with Atreya Smith.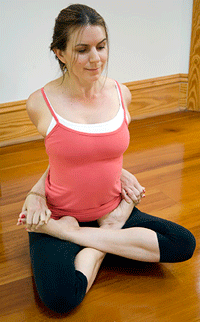 Over the years I've learned that practice is the best foundation for teaching, and having a daily practice of asana, andpranayama deepened my understanding of the limbs of yoga while giving me a way of maintaining sanity in the corporate world.  In 2004 when Paul and Jutima presented me with the opportunity to live and teach in Thailand, I left the office, boarded a flight to Bangkok, and have been on the 'yoga train' ever since.
I am eternally grateful to those who have helped me along this path…First and foremost my family, Mom, and Uncle Robin, who have given me unwavering support, and encouraged me to take the road less traveled.  And so much gratitude for having met Paul and Jutima, for being there always, and painting a pure, beautiful and sincere canvas for the yoga community.   And Sri. O. P. Tiwari, for teaching yoga in its purest form, and for being a constant example of a humble soul.
Thank you to my principal teacher of Ayurveda and mentor, Atreya Smith, a brilliant and dedicated educator, practitioner and writer.  The West is lucky to have him to bridge this ancient science to modern day life, and to Dr. Sunil Joshi, for taking the time and patience to share your knowledge with me in a  clear, authentic manner.