Tim Noworyta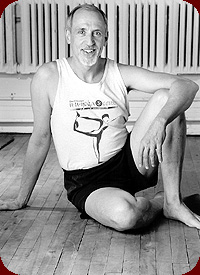 I took my first yoga class at a community college in Lansing, Michigan, in 1980. I was jogging and playing a fair amount of pick-up basketball at the time, and getting quite stiff. I saw a flyer for the class and decided to try it, because I had heard yoga was good for reducing stiffness. My teacher was a hyper-flexible Tai Chi instructor who could gracefully fold fully into a seated forward bend without the slightest effort. I couldn't even get my ribs to my thighs with my knees bent. But I liked the calming quietness of the practice and the energizing stretch the poses gave my body. So when I moved back to Chicago for work the following year, I decided to continue taking yoga classes.
My first class there was at a downtown YMCA near where I worked and at which I played basketball at lunch time. It was led by Becky Love, who taught into her 90s and may still be teaching, for all I know. But her class was a bit too "easy" for me, so I started taking Iyengar classes from Bea Briggs, Gabriel Halpern and others at the Yoga Circle, where I went two or three times a week for more than four years. Also, I took my first yoga workshop in 1984 at Feathered Pipe Ranch in Montana, with Judith Lasater and Arthur Kilmurray, both Iyengar instructors. I had a truly wonderful time (even though I fell out of headstand and knocked two people down) and danced so much at the party on the last night that I got big blisters on my bare feet.
But I was getting a little frustrated with all the props the Iyengar teachers were using at the time, as well as with the start-stop nature of the classes. Plus, I had discovered modern dance, and started taking dance classes instead of yoga classes. As a vata-pitta energetic type, I like movement, so dance was intrinsically more appealing than setting up blankets and chairs. (BTW — I've now come to appreciate props, as well as the detailed Iyengar instructions, such as "Take your left inner kidney skin to your right inner thigh." It's one advantage of getting older.) But I always did some yoga, at least as warm-ups, during the roughly10 years I spent dabbling in dance and performance.
I got more into yoga again around the mid-1990s when I received a flyer about a new yoga studio that was opening in my neighborhood. It was run by Heidi Ash, who incorporated a lot of kundalini yoga (I naturally liked its dynamism) into her teaching. I also started taking the yoga class offered by Kim Schwartz at the Evanston Athletic Club, where I used to go for aerobics. Kim, an outstanding teacher who combines training in Iyengar yoga with Ashtanga and others, was for years the lead teacher at the Temple of Kriya Yoga in Chicago. I ended up taking three or four classes a week with him. Because he had few props, his class was my first experience of doing triangle pose all by itself. It was wonderful! But then Kim left to open his own studio in New Mexico, and I didn't care very much for the teacher who replaced him.
So, in 1996, as part of a New Year's resolution, I started taking classes at what was then the N.U. (Narayanananda Universal) Yoga Center of Chicago and is now the Chicago Yoga Center. I started with a general hatha yoga class but then decided to try the Ashtanga yoga class that people there were buzzing about. Suddha Weixler, who ran the center, was the first teacher to offer Ashtanga Yoga classes in Chicago. In my first Ashtanga class, Suddha had just come back from Mysore, and the place was packed and hot. I sweat as I never had before. It was dynamic, it was challenging — I loved it.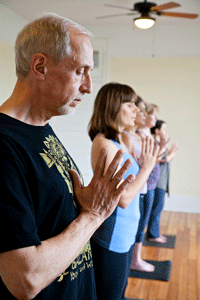 I decided to take the teacher training that Suddha offered, not to become a teacher, but to deepen my knowledge of yoga. After watching me in a practice teaching session, Suddha asked me if I ever thought of being a teacher. I said not really. He said he thought I would make a good teacher. So I started thinking about it. I went on a seven-day silent retreat that summer run by the Lama Foundation in New Mexico. On the retreat, doing Ashtanga yoga in the afternoon was the only way I could deal with the long hours of sitting for meditation and dharma talks. I wrote Suddha a letter saying that yes, I would like to teach yoga sometime.
An opening came up to teach a community class at Evanston Township High School, starting in January 1997. Suddha asked if I was interested. I said yes. That was my first teaching experience – three students in a big carpeted classroom where we had to move the desks and chairs each time for the class. That fall, I started teaching at the N.U. Yoga Center, where I taught for 11 years.
In May 1997 I went to the Yoga Journal conference in San Francisco. There I met John Friend, whose light-hearted approach to yoga resonated with me. I remember when, for triangle pose, he said "Turn your back foot in a little and your front foot out, raise your arms, and soften." I had never heard the word "soften" used in yoga before. It was like a big "gong" for me that "woke me up" to what yoga is about. I told John I'd like to study more with him. He said come to my workshop at Inner Harmony in Utah next spring. I did — and had what was truly the most fun and delightful yoga workshop ever.
I went back in 1999 and 2000. I loved John, his sense of humor and his Universal Principles of Alignment. I learned a lot — and almost became an Anusara teacher. But I also learned that my own style is a little different, and I didn't want to restrict myself to the Anusara way of teaching, nor to represent myself as an Anusara teacher when I'm not.
So, I teach what I guess would be called simply hatha yoga as influenced by my study of Iyengar, Anusara, Ashtanga and the styles of other teachers like Erich Schiffmann and Roger Eischens (a kinethesiologist from Wisconsin who was one of the first American yoga students to study with Mr. Iyengar in India and who has since unfortunately passed on). From Roger I learned that the more you do a pose well-aligned, the more aligned you become. The more you do a pose misaligned, the more misaligned you become. The choice is yours. And even though I took only two workshops with Erich Schiffmann, I consider him one of my most influential teachers because he said "Do your own yoga."
That's the closest thing I have to a mantra, but it seems to get at the heart of what I think yoga is: mindful attention to what you're doing and how you're being, so that through that mindfulness, you can come to an understanding of what you really are — a manifestation of the Divine. For me, yoga is the realization of our Oneness and then living in accordance with that awareness.
So I say my yoga "prayers" before I practice, asking that through my practice I may become more open to divine grace, and through that grace I may become more accepting and understanding, less egotistical and judgmental, kinder, stronger, more skillful, more patient, more loving, a better instrument of Divine will and a manifestation of the Divine loving presence.
As I get older and life throws more challenges at me, my main yoga practice has become "santosa" — being content with things as they are, even when they (including my hatha practice) don't go the way I had hoped or would like them to. Wish me luck with that, OK?
May all being be safe, may all beings be healthy, may all beings be happy, may all live in peace.
Om, shanti, shanti, shantii Om!