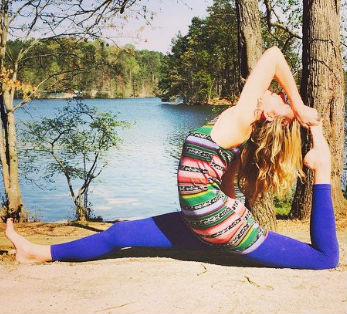 I did my first official yoga pose in a dance studio in the dark New York winter of 1998.  I grew up calling it candlestick, but my dancer buddy told me it was a shoulder stand, the Queen of the yoga postures, and that sounded pretty alright to me. I also had the opportunity to take a course in Breathing Techniques through functional anatomy that same semester from a student of Irene Dowds.
The combination of physical postures and deep conscious breathing expanded my experience as a dancer and made me deeply curious about Yoga. Within two short years of practicing I was ready to learn more. I enrolled at a local Albuquerque Yoga Studio in their first yoga teacher training  under the guidance of Metta Hirschel and Nancy Ruby. The desire to know as much as I could about a movement system that consistently brought joy, health and mental clarity into my life was ignited.
This teacher training was the foundation I needed for a life long passion. I learned basic yoga alignment, anatomy, sanskrit and how to lead others through a safe and fun yoga class. I also learned one of the biggest tools that I continue to use every day ever since; how to interpret people, personalities and limitations.  When I started cultivating this sensitivity I knew that not only did I want the depth of knowledge offered through the training, but that I indefatigably wanted to teach yoga too.
Coming from a household of educators, it was no surprise that I loved working in a learning capacity. Some of my very first yoga students were friends I invited over to my living room. Interestingly all of those "students," are also now Yoga teachers themselves. Funny how yoga spreads like a positive itch.
I had my first gig teaching at a local sports gym. Although the classes were big, the students were enthusiastic and consistent. I experienced what it is like to see a students' eyes simply glimmer after a challenging practice.
One of my favorite students from  the gym was an 85 year old woman who came to my classes religiously. She was a retired ballerina and suited up in her black leotard and pink tights every Tuesday  and Thursday night. I was wildly inspired by her dedication to herself, and the vitality she invoked to practice rigorous yoga classes.
Many years later after teaching and studying with incredible teachers in the Southwest and in India, I wandered into a studio that felt truly warm and welcoming. The tall warehouse walls were painted yellow and the studio owner was a force to be reckoned with. I began taking classes at Bhava Yoga Studio in 2005 and thus began my love affair with a new style of Yoga called Anusara. This was a boon in my education as a yoga teacher, I was inspired and challenged both physically and spiritually by this system. I wanted to reinvest in more teacher training. Anusara yoga was a delightful puzzle and I was eager to learn how to shape the pieces.
Over the next three years I went through two Teacher Training Programs with this system that exposed me to a huge net of philosophers, academics, meditation teachers, and yes asana teachers that exponentially shifted my view of yoga. The two part training in Anusara was a rigorous and thorough system based on the sentiment of intrinsic goodness, a hallmark of the Tantric traditions. It was through these latter experiences of Teacher Immersion and Teacher Training that I came to remember that my love and interest in Yoga is UNQUENCHABLE.
Yoga Teacher Training was an opportunity for me to grow in my capacity as a teacher but also to develop an authentic and deep knowledge base of Yoga philosophies, styles, and therapeutic approaches. My desire to share what I know with others is coupled with the conscious humility to always keep learning.