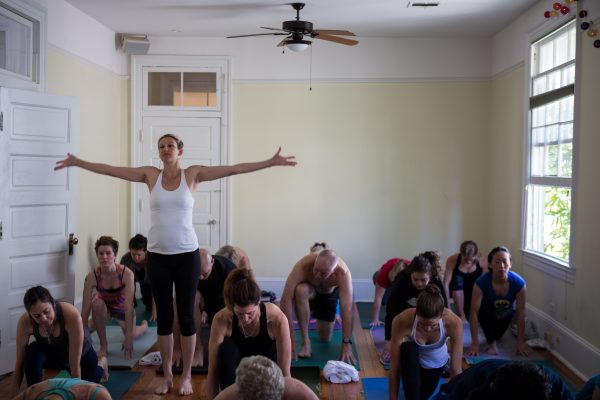 Deepen Your Practice And Share What You Love
Do you nurture an intense love for yoga?
Are you astonished how much your life has improved since you stepped into your first yoga class?
You gained strength, flexibility and fitness. You tapped into a deep calmness, and experienced a new sense of peace and inner beauty.
Now, what's next?
Would you like to share your yoga with your community? Explore the philosophy of yoga? Or have you become fascinated by human anatomy?
Our Teacher Training helps you nourish a deeper understanding of yoga, delve into human anatomy, and gain the confidence to share the magic of yoga with your friends and family and community.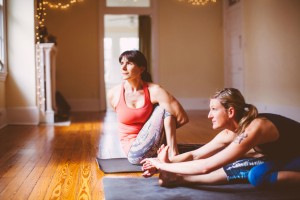 Passionate Students Become Extraordinary Teachers
To become a yoga teacher, you need to understand and practice yoga: postures, philosophy, meditation, and pranayama (yogic breathing). True learning includes both information and experience.
For example, you can read books about meditation or healthy eating, but you truly feel the benefits when you practice. When you experience a calmer, less reactive mind, you want to meditate. When your energy skyrockets because you've replaced sugary snacks with fruits and nuts, you won't protest adding a few vegetables to your dinner plate.
As you establish a regular yoga practice, you learn firsthand about it's benefits: stable energy, better sleep, less stress and calmer, happier mind.
You gain the skills and motivation to be a dedicated student: breathing practices you build upon month-by-month, meditation homework, and yoga sequences.
Over nine months of Teacher Training, you immerse yourself into yoga deeper than ever before, and you experience extraordinary growth in your own yoga practice, preparing you to be a skilled teacher. You develop your own authentic teaching voice through creative exercises and practice teaching.
"Jessica and Mikhayla have demonstrated a deep commitment to fostering a dedicated practice in their students. And they offer more than just their own experience. The training includes several intensive workshops with prominent teachers of pranayama and anatomy from around the world and from our own vibrant New Orleans yoga community." ~Michael Bick
Students have told us over the years that the toughest part of teaching is articulating the language: how to move into and out of postures clearly and succinctly. You'll practice with us and we'll give you a set of cues to get you started.
This Training Goes Beyond All The Others
You may think that you aren't cut out to teach yoga. Or that you aren't advanced enough.
But this is far from the truth.
During our course you develop your own yoga practice. You build skills and grow in self-confidence.
This training marries dynamic Ashtanga yoga with heart-centered Anusara yoga:
Ashtanga yoga sequences build strength and flexibility. Through repetition, you easily memorize a sequence for home practice.
Anusara yoga teaches you clear alignment principles, and approaches to break down challenging postures with a heart-centered approach and emotional appeal.
Pranayama and philosophy, as classically taught in India, help you to appreciate the importance of a lineage in yoga and where it originates.
Ayurveda helps you to understand what type of diet and lifestyle best suit your metabolism.
In the training you find a supportive community of like-minded yogis. By sharing your experiences and practicing together, you'll develop lasting bonds.
"I highly recommend this training to anyone interested in learning and experiencing the roots of yoga and Ayurveda in a beautiful and supportive community. Prepare to be overwhelmed by the lifetime of learning opportunities that this training will open up to you." ~ Michael Bick
What Will You Learn?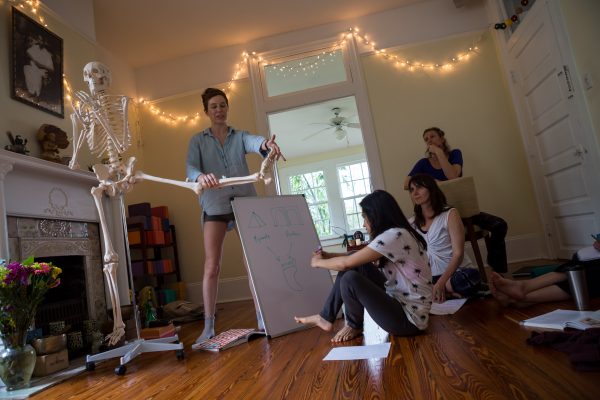 You learn the foundations of yoga, way beyond what's taught in a yoga class:
Sequence a yoga class: Use creativity and knowledge of yoga postures to develop a balanced yoga class.
Use language effectively: Learn effective verbal cues for leading a yoga class.
Breakdown key yoga postures: Talk students into and out of yoga postures, what the fundamental alignment cues are for each postures.
Develop pranayama and meditation practice: Receive a specific assignment each month so you can practice independently.
Live your yoga: Open the doors to yoga philosophy, including Tantra, Samkhya, Hatha Yoga and key texts: Yoga Sutras of Patanjali and the Bhagavad Gita. Learn to integrate them into your life.
Heart-centered yoga: Learn the foundations Anusara yoga, including the loops and spirals, universal principles and more.
Ashtanga yoga: Learn the fundamentals of ashtanga yoga, a strong foundation for teaching ashtanga or vinyasa classes.
Teach safely: Appreciate how our anatomy impacts different types of yoga postures, and learn how to modify yoga postures to avoid injury.
Teach with confidence: Get personal feedback on a class so you can refine your teaching skills.
Ayurveda for yoga teachers: Learn how to distinguish difference in students' mental, emotional, physical state and adapt this to your teaching so your students benefit more.
Balance your body and mind: Learn and apply ayurvedic principles to your diet and lifestyle so you get healthier and happier. Improve your sleep and digestion so your energy invigorates your students and others around you.
Spark your creativity: Make your own mala bracelets, eye pillows, clay models, and yantras. Tapping into your creative center will help to infuse a sense of playfulness into your teaching.
Safe and effective hands-on adjustments: Use your hands and body to help students to optimal alignment in their postures.
Teaching special populations: Learn the basics of teaching people with trauma and limited mobility using chairs and other props.
Yoga as therapy: Understand how to modify postures for injuries and physical limitations.
Yoga for trauma: An introduction to how trauma impacts the brain and how you can modify your yoga class yoga to be more trauma sensitive.
Aromatherapy: integrate essential oils into your classes — using scents to stimulate energy, promote relaxation, or balance your students.
Teach with charisma: Connect and engage with your students.
Yoga in the modern world: Learn how to promote your teaching through social media and online marketing and build as simple website.
Sound like a lot?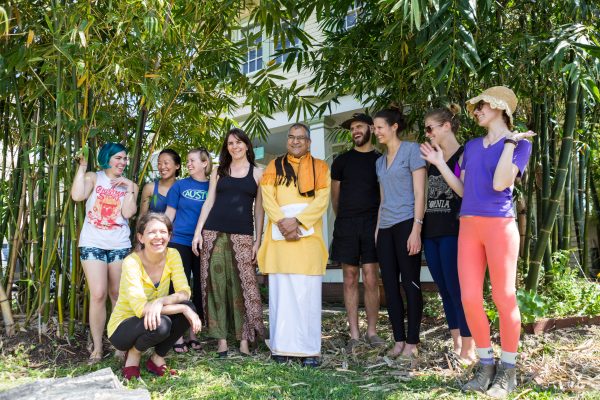 The 200-Hour Yoga Teacher Training is taught over nine months, so you have plenty of time to get to grips with the material and become a confident yoga teacher.
Each month features one weekend of yoga immersion, giving you plenty of time to read and revise what you learn each weekend.
Of course, life sometimes intervenes. You may miss an afternoon or a weekend. This is okay because we record all the sessions. So you won't miss any valuable learning.
What qualification does the training give me?
At the end of the training, after completing six hours of practice teaching, you'll be eligible for the 200-Hour Yoga Alliance Certification as a Yoga Teacher. This is an internationally recognized certificate.
About your primary teachers and guides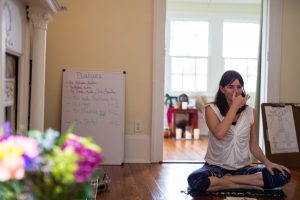 Jessica Blanchard is a yoga teacher, ayurvedic practitioner and registered dietitian. Founder of Balance Yoga & Wellness, Jessica has taught yoga for more than thirteen years. She's devoted to helping people realize the power of yoga and a good diet.
Jessica is authorized to teach Ashtanga Yoga by Sri K. Pattabhi Jois. She's been a direct student of Sri O.P. Tiwari, head of India Yoga Association and leader of Kaivalyadham since 2003. She has an MA in French and Sociology, and is a Registered Dietitian/Nutritionist (RD, LDN).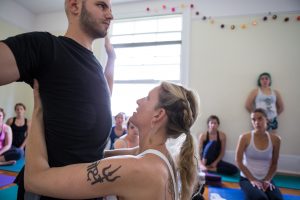 Mikhayla Anderson is an Artist, Yogi and a great enthusiast of Love. She moved to New Orleans from New Mexico and brings with her the discerning energies of the clear and open-hearted desert.
She started her career in movement through dance and transitioned into Yoga in the late 1990's. She has studied with expert teachers in the Ashtanga, Vinyasa, Ayurveda and Anusara traditions. She was certified as an Inspired Anusara Instructor in 2011 and currently is a 500-ERYT Instructor.
Jessica and Mikhayla are your personal guides throughout the training (and potentially for longer….) They answer all your questions about yoga practice, postures, philosophy, and ayurveda. They give you personal feedback on your first yoga class.
With more than thirty years of yoga study, MIkhayla and Jessica help you learn more than you would have thought possible in nine months. They present diverse backgrounds of yoga study and different teaching styles — Mikhayla extroverted and passionate, and Jessica quietly confident.
Visiting Guest Faculty
Sudhir Tiwari combines a deep understanding of classical yoga with his experience of living and teaching in this west. He helps us to understand yoga in its most authentic form. He was brought up at Kaivalyadham Yoga Institute, amidst a rich yogic heritage in India. His father is the well known pranayama master, Sri O. P. Tiwari.
Sudhir travels the world conducting workshops in theory and practice of yoga (asana, pranayama, meditation, chanting) and ayurveda. His mantra is "Breathe positive, breathe yoga."
Online Anatomy Instruction
David Keil brings his unique style to teaching human anatomy. Because of his passion, he makes this complex and sometimes frustrating topic easy to understand. So we can all advise our students confidently.
David recently published the comprehensive manual Functional Anatomy of Yoga, the most accessible book about anatomy on the market today.
What's included in the training
Nine Weekend Immersions
Nine ayurvedic lunches on the weekends
Online access to the course recordings
160-page Teacher Training Manual
Tuition for Sudhir Tiwari for Classical Yoga
Tuition for online Anatomy Course with David Keil
Five guest teacher modules: Hands-on adjustments, Aromatherapy, Yoga Therapy, Teaching Special Populations, Marketing for Yoga Teachers
Practice teaching in small groups so introverts feel at ease
Personal written feedback on your first class
Five art projects: mala bracelets, eye pillows, clay modeling, aromatherapy kits, yantra drawing
Group Ayurvedic Dinner with Sudhir Tiwari
Yoga Alliance Certificate upon completion of program
Important details:
Training cost is $2750, Early Bird price if deposit paid by 6/30/2017, full price $2950.
The training starts September 8, 2017 and finishes May 2018.
The training meets once per month, nine times from September to May 13th with a Closing Celebration.
Weekend schedule

Friday 5:00 – 8pm
Saturday 8:30 – 5:30pm
Sunday 8:30 – 5:30pm

Weekend dates: September 8-10, October 13-15, November 10-12, December 1-3, January 12-14, February 23-25, March 9-11, April 6-8, May 18-20
The early bird price is valid until June 30, 2017. You must deposit $500 towards the training to be eligible for the Early Bird price.
Only 18 seats are available.
We offer a flexible payment plan of four installments or monthly installments.
Trainees will receive a discounted monthly rate of $60/month for unlimited yoga during the training.
A $500 deposit is due upon enrollment to hold your spot. If you cancel 30 days or more before the start of the program you will forfeit $250 of your deposit and the remaining balance will be refunded. If you cancel 14-30 days before of the start of the program, you will forfeit your entire deposit and any remaining balance will be refunded.

These fees are non-refundable and non-transferable. If you cancel within 14 days before the start of the program or do not attend the program, the entire deposit and program tuition is non-refundable and non-transferable. Once the program begins the program tuition is non-refundable and non-transferable.
Questions?
Email jessica [at] balanceyogawellness.com or mikhayla [at] starblossomlife.com
Take the first step

Or click this link to apply!
Once we've reviewed your application we'll respond with more details.
Join our early interest list now and we'll send you important information about the training.
---