Integrated Vinyasa & Pranayama Class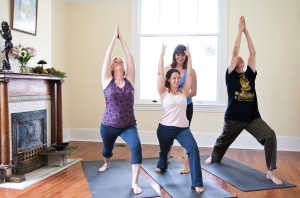 Emphasis on flowing through postures with correct alignment and a steady stream of breath – the keys to opening up the body and releasing deep patterns of stress and tension. Postures learned in this led class can be applied to other flow-based classes like Vinyasa or Hatha.  Modifications for all postures will be offered.  You will learn varying sequences of postures inspired by the Ashtanga Primary and Second series, developed by yogis hundreds of years ago to tone the body, free the mind, relieve stress and improve your physical and mental health. The class will end with 15 minutes of working with the breath (pranayama) to focus and calm the mind.  Teaching based on the instructor's 11+ years experience practicing and teaching alignment, Ashtanga vinyasa and pranayama.
Note that this class will replace Mysore on Wednesdays and will vary somewhat each time.
Mysore students arriving late may come and practice in the back of the room.
Try it out during our special Labor day schedule at 9am or 5:30pm.