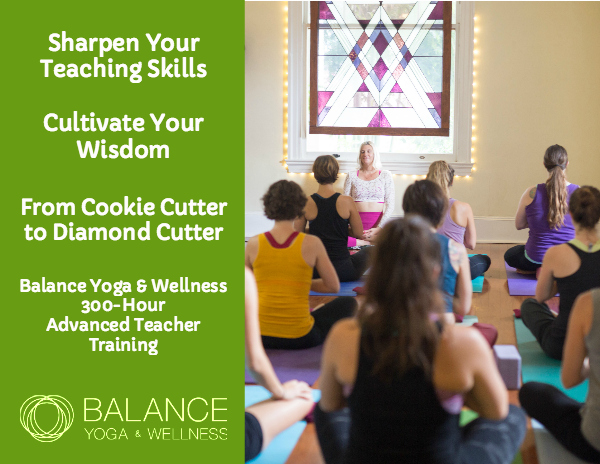 Cultivate Your Wisdom And Sharpen Your Teaching Skills
Have you completed a teacher training?
Are you astonished at how much you love helping your students transform?
In your 200-hour training, you learned about yoga's philosophy and history. You dipped your fingers into the deep pool of yoga's wisdom. You're comfortable teaching a basic yoga class and developing a simple sequence.
Now, what's next?
Are you ready to stand out from your peers?
To develop the confidence to work with students in unique situations?
Have you become fascinated by more advanced yoga postures?
Our 300-Hour advanced teacher training helps you cultivate your own wisdom and develop the skills to discern what paths are best for you, your practice, and your students.
From Cookie Cutter to Diamond Cutter
To become an excellent yoga teacher, you need to find the jewel within yourself to share with others.
To stand out by cutting through the yoga clichés and leading students with depth, skill, and confidence.
With our guidance, you'll develop your professional skills, teaching language, asana vocabulary, and current philosophy to build a diverse yoga acumen.
What Will You Learn?
Effective teaching: You'll receive critical feedback on your teaching skills and professionalism and benefit from a safe space for accountability. We'll help you up your teaching game and show you ways to improve your skills.
Excellent teaching: You'll discover how to build a safe yet inspired sequence that drives students to their personal best in a collaborative and supportive class environment.
Yoga professionalism: You'll learn how to think of yoga professionally and manage your finances.
Effective marketing: Discover how to stand out from the crowd of yoga teachers with a unique bio and a skillful approach to networking.
Develop an eagle eye: In the Yoga Anatomy Observation module with David Keil, you will learn to use tools to see what a student is doing and/or not doing. Seeing makes all the difference in the adjustments or cues you give to a student in a particular pose. You'll refine verbal cues and hands-on adjustments because they will be based on observations that are less biased, more detailed, and generally more informed.
Functional Yoga Therapy with Bea Doyle: Learn to address issues of performance, mobility, and pain in the body using a variety of yoga postures, corrective exercises, self-massage techniques, experiential anatomy, and pranayama.
Hone your teaching skills with Ayurveda: Develop a balancing, Ayurvedic-informed sequence based on the season.
In-depth pranayama instruction and accountability: Learn how to practice to calm basic imbalances in the doshas. Discover how to apply breathing exercises therapeutically.
Clinical yoga experience: Learn to teach students according to their needs, including injuries, trauma, breathing difficulties, and more.
Advanced asana: Discover how to unpack, practice, and teach advanced yoga asana. Teach and walk students through a broad selection of advanced postures with confidence and the ability to offer options for all levels.
Teach the Ashtanga Primary Series: Discover a foundation from which to teach Ashtanga or general vinyasa classes and the beginning of the Intermediate Series. Learn the basics of teaching Mysore-style Ashtanga.
You Benefit From The Power of Our Senior Teachers
Your teachers, AJ, Jessica, Meredith and Mikhayla are committed to sharing their love of yoga. They honor transparency. They are relatable and upfront about their level of knowledge and areas of expertise and will not presume to teach you what they don't know.
The 300-hour program is the culmination of four combined decades of practice, learning, and teaching. Jessica, Mikhayla and AJ deliver depth of knowledge coupled with humility. They teach in a safe way that is nurturing to each individual and encourage every student to practice and live in a healthy and intelligent way.
AJ's eclectic teaching style makes each class a fun and enlightening experience for all types of students. AJ is developing a program called "Yoga Mat-side," an individualized approach to yoga care based on his unique apprenticeship experience with Gabriel Halpern at Yoga Circle in Chicago.
Mikhayla, an Anusara-inspired yoga teacher, has taught for more than fifteen years. She shares her extensive experience in the fields of education and art by teaching trainees how to sequence, plan, and execute classes in creative, compelling, and intelligent ways.
Jessica is a registered dietician, Ayurvedic practitioner, and Authorized Level 2 Ashtanga teacher (by KPJAYI, the official Ashtanga institute). She has also studied extensively with Sri O.P. Tiwari, the world's foremost teacher of pranayama.
Meredith has been teaching Ashtanga Yoga for more than a decade. She excels in helping students to work past their limitations in a gentle, encouraging manner. Creator of the Yoga Adjustments App, she's our in-house specialist in giving hands-on adjustments. She's studied under some of the world's best teachers, including Sharath Jois, Richard Freeman, Manju Jois and Tim Miller.
Having multiple voices creates a safe system of accountability and checks and balances. Jessica, Mikhayla, Meredith and AJ respect one another's points of view and encourage an open dialogue between students and teachers.
We're confident in our teaching skills and points-of-view, yet we encourage constant questioning and accountability. Rather than using a dogmatic approach to yoga, we encourage you to question, contemplate, and develop strong discernment skills.
Sound like a lot?
The 300-hour advanced yoga teacher training is taught over one year, so you have plenty of time to get a firm grasp of the material and integrate it into your teaching practice.
We've divided the training into modules, so that you focus on learning one area at a time. We'll kick off with an Ashtanga Teachers Intensive Featuring Jessica and Meredith.
Each week you'll meet with one of the teachers, and there will be a few longer immersions during the year with visiting teachers.
The program is broken into bite-sized weekly commitments — frequent without an overwhelming amount of information at once.
Of course, life sometimes intervenes. You may miss an afternoon or a weekend. This is okay because we record all the sessions. So you won't miss any valuable learning.
Training Modules
To complete the training, you must complete 6 of the 8 offerings, the weekends with Bea Doyle and David Keil are mandatory.
March 23 – June 11 2018 Ashtanga Teachers Intensive with Jessica and Meredith – details and curriculum here.

Includes Art of Observation with David Keil

June – September 2018 Yoga Matside Clinic with AJ
September – November 2018 Advanced Alignment with Mikayla and AJ

Includes Functional Yoga Therapy with Bea Doyle

December 2018 – Philosophy Summit with visiting teachers
December 2018- Creativity and Yoga with Mikhayla
January 2019 – Ayurveda for Yoga Teachers with Jessica
February 2019 – Marketing, Networking, and Writing for the Internet with Jessica, AJ and Mikhayla
March 2019 – Free community teaching weekend with graduates and closing ceremony
What qualification does the training give me?
At the end of the training, you'll be eligible for the 500-Hour Yoga Teacher Yoga Alliance certification. This is an internationally recognized certificate.
What's included in the 300-hour training
Weekly meetings with the Module Teachers
Unlimited yoga at Balance Yoga starting the day of your training until December 31, 2018
Mentorship with senior teachers, Jessica, Mikhayla and AJ
Three immersion weekends with visiting teachers David Keil, Bea Doyle, and Sudhir Tiwari
Immersion weekend with AJ, Mikhayla, and Jessica, September 2018
Important Details
Training starts March 23, 2018 with the Ashtanga Intensive
Training sessions meet Mondays 5:30-8:30pm starting in March, 2018
Observation with David Keil April 13-15th, 2018
Functional Yoga Therapy with Bea Doyle, October 19-21, 2018
Booking Options
We're offering two ways of enrolling in the training. You can either book the whole training, which will include 6 modules or book each module separately. To qualify for YA 500-Hour certificate you must accumulate the necessary contact hours.
Training cost for entire program
$4200
Balance Yoga 200-hour TT graduates receive $300 discount

We offer a flexible payment plan of monthly installments.
Unlimited yoga for the duration of the training is included in the cost.

A $500 deposit is due upon enrollment to hold your spot. If you cancel 30 days or more before the start of the program you will forfeit $250 of your deposit and the remaining balance will be refunded. If you cancel 14-30 days before of the start of the program, you will forfeit your entire deposit and any remaining balance will be refunded. These fees are non-refundable and non-transferable. If you cancel within 14 days before the start of the program or do not attend the program, the entire deposit and program tuition is non-refundable and non-transferable. Once the program begins the program tuition is non-refundable and non-transferable.
Questions?
Email jessica [at] balanceyogawellness.com or mikhayla [at] starblossomlife.com
Take the first step

Or click this link to apply!
Once we've reviewed your application we'll respond with more details.