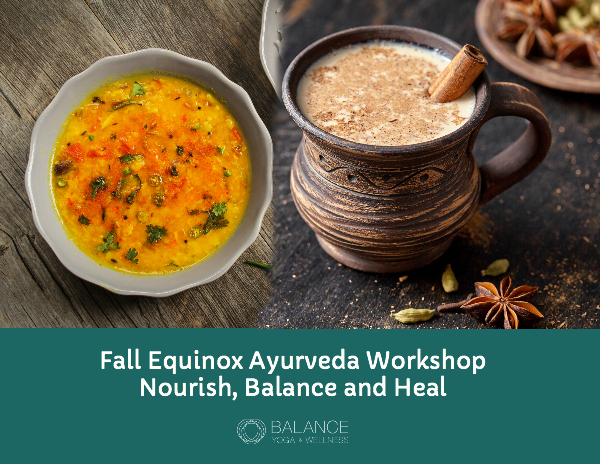 Fall Equinox Ayurveda Workshop
Sunday, September 17, 10am – 2pm
In today's world that's full of distractions, we must find ways of calming our minds and slowing our pace.
As summer changes to fall, do you become overwhelmed or unfocused?
In Ayurveda, Vata dosha rises, causing feelings of stress, anxiety and overwhelm.
Join Balance teachers to learn beautifully simple tools to calm Vata with food, drink, and soothing practices from the ancient traditions of Ayurveda.
10-11:15am Yoga Class with Vata-Alleviating Focus led by Mikhayla Including Meditation, Pranayama, Slow and focused flow with Drishti instruction.
11:30am – 2pm Cooking Workshop with Drink Pairing led by Erin & Sharon Focus on the warming tastes of Sweet, Sour and Salty that balance Vata.
Menu:
Kitchari– grounding stew of lentils and basmati rice, seasoned with turmeric, coriander and cumin.
Roasted Radish and Turnip Salad, micro greens and lemon-tahini dressing paired with Lassi
Carrot Halwa – grounding North Indian dessert, prepared using carrots, brown sugar, cashews and cardamom, paired with spicy Chai
And the Bartanica bitters tasting, of course!
The summer solstice workshop was a terrific mix of great company and great food. I left inspired to try some delicious new tricks in the kitchen, and the recipes were fresh and easy to replicate at home. Who knew that chocolate and tahini could make such a divine dip for fresh peaches?! ~Tracey Watts
Each participant receives their own goodie box including a calming essential oil blend, Chai, Bitters and Seasoning Salt.
Investment: $65, includes yoga class, cooking workshop, lunch and takeaway box.
Please book ahead, limited to 10 students.