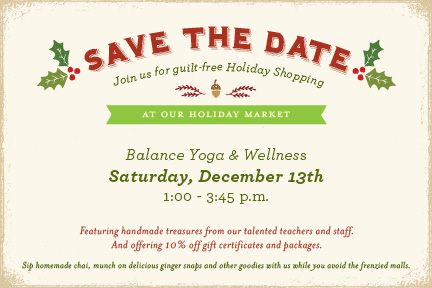 Enjoy guilt-free holiday shopping at our first ever Holiday Market.
Featuring hand-made treasures by our talented teachers and staff.
Avoid the frenzied malls, and sip chai and ginger snaps while you support local talents.
Free short Thai massage demos with Melanie Reupke.  (See below for info about Thai massage.)
Some of the goodies you an expect to see:
– Handmade coffee & tea filters
– Essential Oil Blends
– Gluten Free breads and treats
– Gift Boxes by Bartanica
10% off all Balance Yoga & Wellness gift certificates and packages.
Balance Yoga & Wellness
120 South Cortez Street
New Orleans
70119
United States (US)
Phone:

504-309-9618
Thai Yoga is a balanced blending of Chinese medicine, Ayurvedic medicine, and Western medicine alike.
Thai Yoga or Thai Massage is used to facilitate and promote a harmonious state of being.  It is a form of bodywork where the therapist gently assists clients into asanas (postures) and works to bring consciousness to the energy lines of the body, called sen in Thai.  The session is typically done on a mat, and the client is fully-clothed, no undressing/draping required.
Some benefits of Thai Yoga include: relaxation, reduction of pain, reduction of swelling/edema, increased range of motion, management of stress, passive exercise, enhanced mind/body connection, evaluation of soft tissue status, preparation for exercise, detoxification of soft tissue, maintenance of general health.
Any age or condition can benefit from Thai yoga; we simply use the whole body to treat the whole body.