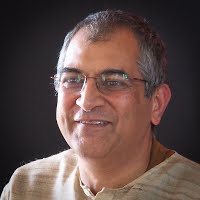 Don't miss this rare opportunity to study pranayama, meditation and classical Hatha Yoga with a master teacher.
With Sudhir, you'll examine pranayama, its purpose, technique and benefits according to Patanjali and Hatha Pradipika, and and how it is supported by modern science. The workshop will include pulse diagnosis to determine your individual pranayama & meditation practice. If you're new to pranayama, you'll receive your own set of practices.
You'll also practice yoga postures with the aim of calming the body's pranic movement in order to prepare you for deeper contemplative practices.
Morning sessions consist of pranayama, meditation and asana.
Afternoon sessions consist of philosophy/discussion, chanting, meditation and pranayama.
Saturday: Yoga's lineage and history
Sunday: Pranayama, it's purpose and benefits from the major texts
Saturday March 12th & Sunday March 13th (2 sessions/day)
8:30-11:30am Pulse Reading, Pranayama, Asana (yoga postures)
2-5pm Talk, QA, Chanting, Pranayama & Meditation Techniques
Cost: $140 four workshops early bird (before February 28th), $160 regular price.
Single sessions $40/workshop early bird, $50 thereafter
To get the full benefit of Sudhir's teachings, please book all four workshops. This workshop is part of BYW Teacher Training, so we have only a few public spots. Book early.
Individual workshops: $40/workshop early bird (before February 28th), $50 regular price.

Join the other Balance Yoga Teacher Trainees for an Ayurvedic lunch on Saturday for only $10. To book the lunch email Erin egulbengay(at)aol.com .
About Sudhir Tiwari
Sudhir Tiwari combines a deep understanding of classical yoga with his experience of living and teaching in the west. He helps us to understand yoga in its most authentic form. He was brought up at Kaivalyadham Yoga Institute, amidst a rich yogic heritage in India. His father is the well known pranayama master, Sri O. P. Tiwari.
Sudhir travels the world conducting workshops in theory and practice of yoga (asana, pranayama, meditation, chanting) and ayurveda. His mantra is "Breathe positive, breathe yoga."
See Sudhir talk about the importance of pranayama here.
Watch a video about his workshops at Ashtanga Yoga Paris here.