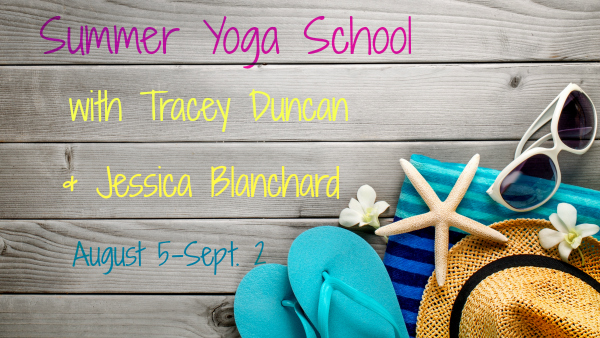 When: August 5-September 2


Time: 7:30-8:45 am

 Tuesdays-Sundays
Who: Tracey Duncan & Jessica Blanchard
What: 25 days of yoga


Yoga Summer School with Tracey & Jessica
So you wanna be a yogi? You wanna take it to the next level? You wanna practice (almost) every day?
Here's your chance to explore the depths of the practice six days a week. Join forces with other committed yogis and two totally awesome teachers in an exploration of the practice that will transform your body and mind.
You will meet with Tracey each morning, bright and early. Each class will begin with a conversation and move through an alignment-oriented vinyasa practice that will gradually increase in difficulty. Class will end with a full yoga nidra (guided deep relaxation). Tuesdays we will meet with Jessica for an introduction to Ashtanga and pranayama.
We will start the month out by refining your alignment in the sun salutations and foundational poses and then gently move into more complicated postures. Handstands! Backbends! Heart Openers! Arm Balances! You will have the opportunity to troubleshoot your practice and fine tune your skills in a supportive environment with skillful teachers.
If you have been looking for the next level, here it is, delivered with dedication, compassion, and no BS.
Open to students who are comfortable in level 1-2 classes.
5 student minimum.
How Much: $300 early bird, $350 regular. Members: $220 for early bird or $270 regular